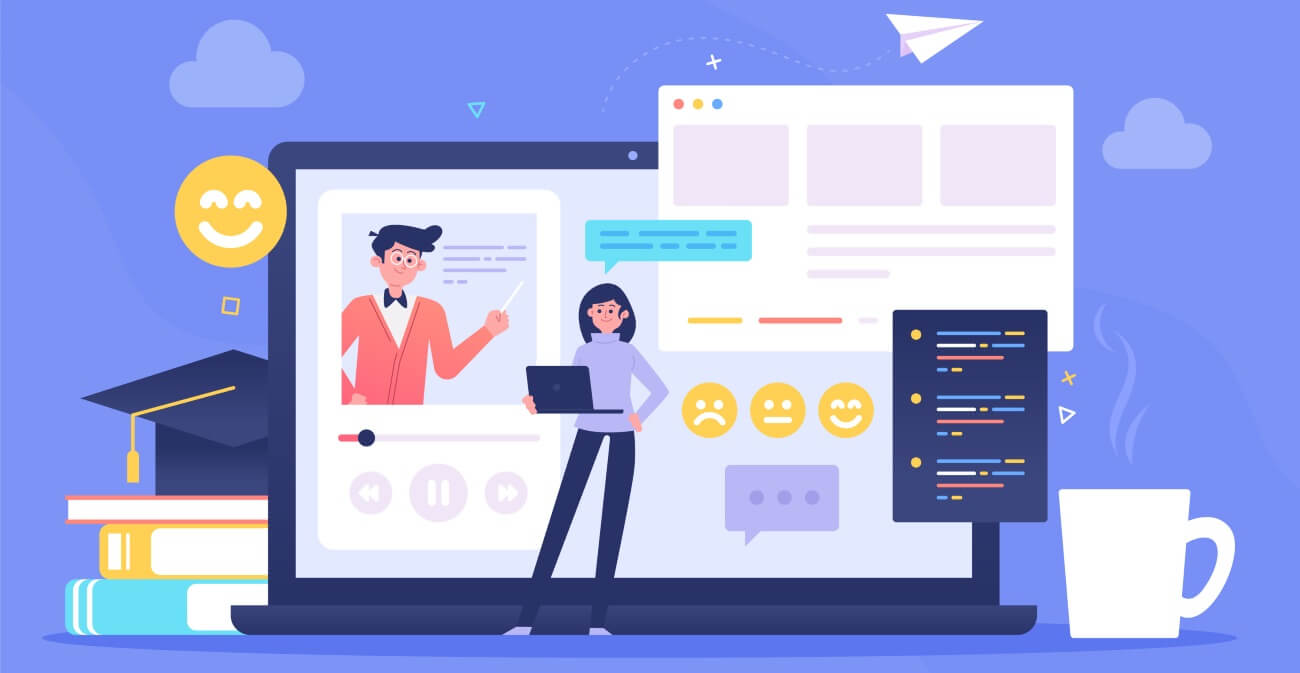 The goal of any online educational platform is quality learning. This quality must equalize the quality delivered via the standard classrooms at schools. There are unlimited online learning platforms currently racing to capture the largest portion of educational institutions, each comes with a different system and an adjustable collection of features and functions. This staggering number of online learning options can quickly lead schools to analysis paralysis where, with countless options come great confusion, and yes, those options can be overwhelming.
Bill Gates once said: "Technology is just the tool. In terms of getting the kids to working together and motivating them, the teacher is the most important", and this applies too on online learning platforms. Choosing the right solution that complements the school's educational objectives needs deep understanding of the available options, where the goal is to pick a choice that aids the school maintain an acceptable level of continuity of education and demonstrate the true value of online learning.
Virtual Classroom Is Not Just Video Conferencing
E-learning offers more than what is known as an online conferencing platform. Virtual classrooms offer more advanced, and extremely flexible functionalities, as they bend to the needs of the learners. In one classroom an average of 20 to 25 students can attend, the learners must be getting the full normal classroom experience or even better with the help of multimedia. When used properly, multimedia offers the students with new means of acquiring knowledge that is designed to enrich the teaching and learning through various channels and platforms. Unlike virtual conferencing platforms, for example, where participants can login and video/ or conference call without having any exceptional control over the session, the virtual classrooms are characteristically created to; impose full control over features, and maintaining the school's authority and control over classes and sessions.
To elaborate more yet simplify it for the reader, we've put together a list of features that will help schools choose the platform that best fits their learning needs;
Easy Access
The majority of the available platforms require either a software installation or a browser plug-in, which might be challenging. When not all users have cutting-edge technology device, not all as well obtain an adequate technological knowledge to conduct those technical procedures.
A fairly good online learning platform should be giving the users the flexibility to access the system through a link that can be viewed on any available browser whether on a desktop, laptop, mobile phone, a tablet or even a smart TV. Moreover, during emergencies like the COVID19 school closure, the students need to login immediately without any interference like downloads or lengthy processes that might affect the whole educational experience, and here is why an easy access platform must be on top of every school's mind when searching for the best platform.
Friendly Interface
A good virtual classroom must be highly customizable, especially for tutors that must feel comfortable while conducting their lessons. They must be comfortable with the interface, the functions and the level of control over the class. When preparing digital lessons, the tutors may include various multimedia files like PPT, videos, PDFs and other formats, the platform shall not only support those files but also display them in a tight, organized and clear way without dealing with sending invitation links and emails. The platform should also allow students to navigate easily and smoothly during their online lessen.
Effectiveness of Teaching
Efficient e-Learning platforms should enable tutors to construct their online lessons, get actionable information, and easily deliver their Lesson. Such powerful features allow teachers to gain insight into the activities of the students through informative reports including attendance and number of dropouts taken in the lesson.
Interactivity and Live Sessions
No one denies the importance of having a direct interaction between a tutor and a student. When using the right tools, schools can get interactive live learning. There are multiple characteristics that marks up successful virtual session:
Having an online whiteboard controls that allows the instructor to annotate key parts of the lesson's whenever needed. And the ability to share screen and connect to smart boards.
The ability to include different types of questions like polls and multiple choices within the session that can assist in maximizing student's interaction and focus.
Live chat is a requirement in any platform nowadays, as it creates a direct bridge between the tutor and the students and the students among each other. To be able to get a live response from students, whether it's an intervention or a question is always considered an added value of the platform.
More interaction options can always add up to the learning platform, options like sharing webcams, raise hands, emojis and virtual tricks.
Notifications are another aspect to look for in online learning platforms. Look for platforms that sends automatic push notifications, like when a lesson is scheduled, or when assignments are placed, and when exams are determined.
Content Security
As technology developed, the need for security and authenticity arose. Any virtual platform must guarantee security of data and virtual learning platforms are not an expectational. The learning platform should give the school and tutors a complete control over their content and protection from unauthorized use and download. Examples on this include the ability to delete, amend media files and limit the ability to download the sessions in various formats like mp4 or WMV format.
Conclusion
The online learning method has been the choice of many educators and institutions across the globe, this is very much the case specially in times of emergencies, where schools and other educational institutions look for the ultimately best option in the market, but the choice among countless number of platforms makes the choice harder. We have tried here to list a number of features that can help educational institutions to make up their mind when committing to an online virtual classroom.
The only learning management system you need
Contact us to talk about how Edunation can empower your educators manage student performance and outcomes