Blended Learning
Mix eLearning with instructor-led training. Deliver instructor-led training with videos, documents, quizzes, shared files, and more.
Personalized Learning
Edunation is a safe environment that encourages students to drive their own learning in and out of the classroom. 
Social Learning
Edunation is based on the latest social learning technologies that provide the most engaging and collaborative online learning experience.
Online Exams & Quizzes
Edunation helps schools create secure and engaging online exams and quizzes, while helping teachers and school administrators reduce workload and get informative insights.
Build your own engaging online exams, quizzes and assignments that fit any kind of difficulty level, with comprehensive and representing reporting tools and analysis that will assist not only headmasters and supervisors, but also teachers.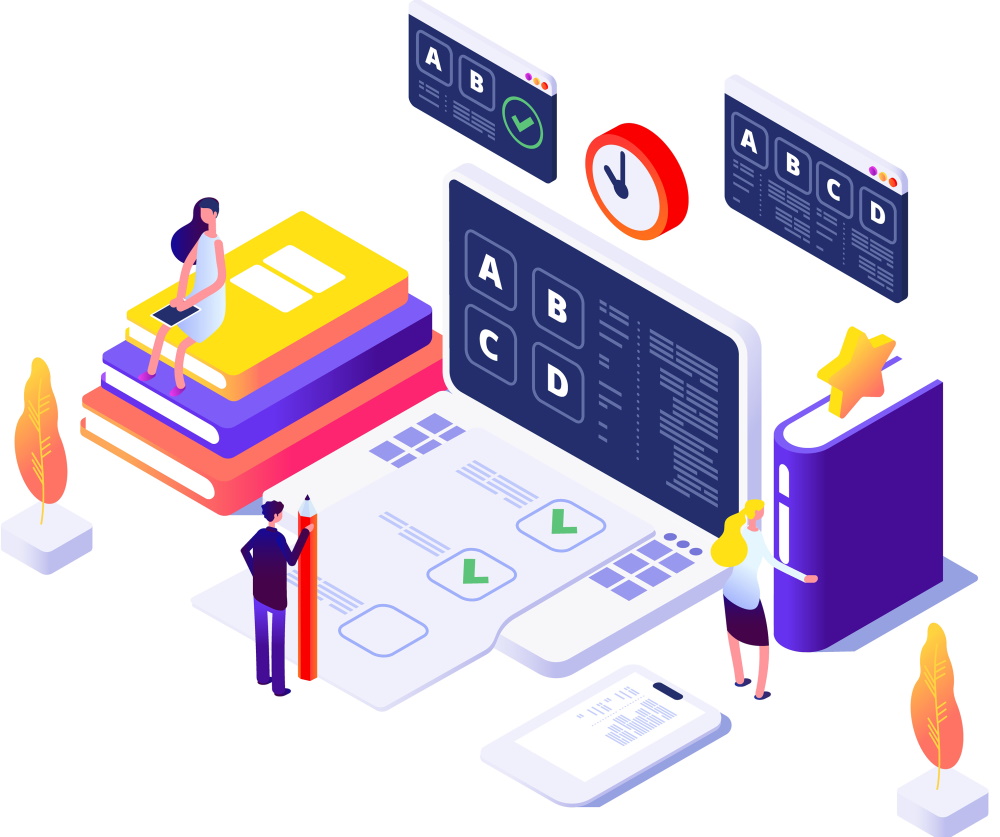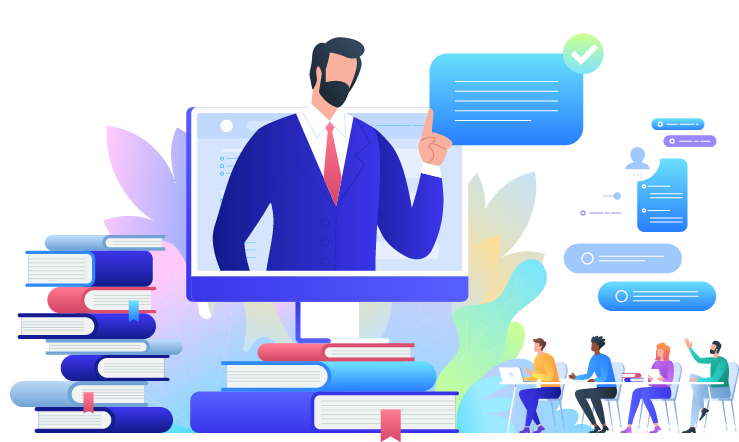 Virtual Classrooms
With Edunation, video conferencing for education is easy and efficient! Students can study anytime, anywhere and from any device. Keep everyone focused and engaged in with high quality, real time audio and video, an easy-to-use interface, and a suite of collaborative tools.
Drive real-time interactions with your students during the live class. You can transfer the audio or video control to the attendees of your live session. With the live poll option, you can create a poll to pose questions or garner feedback.
Assessment & Evaluation
Edunation offers numerical, verbal, behavioral, as well as skill-based assessment tools. We know that every student is unique and must be gauged accordingly. With Edunation, you can now assess students in a plethora of ways.
Want to leverage the power of alternative assessment techniques and styles, including skills-based assessment, to truly identify the strengths and weaknesses of each student? Click here to arrange your risk free, no obligation trial.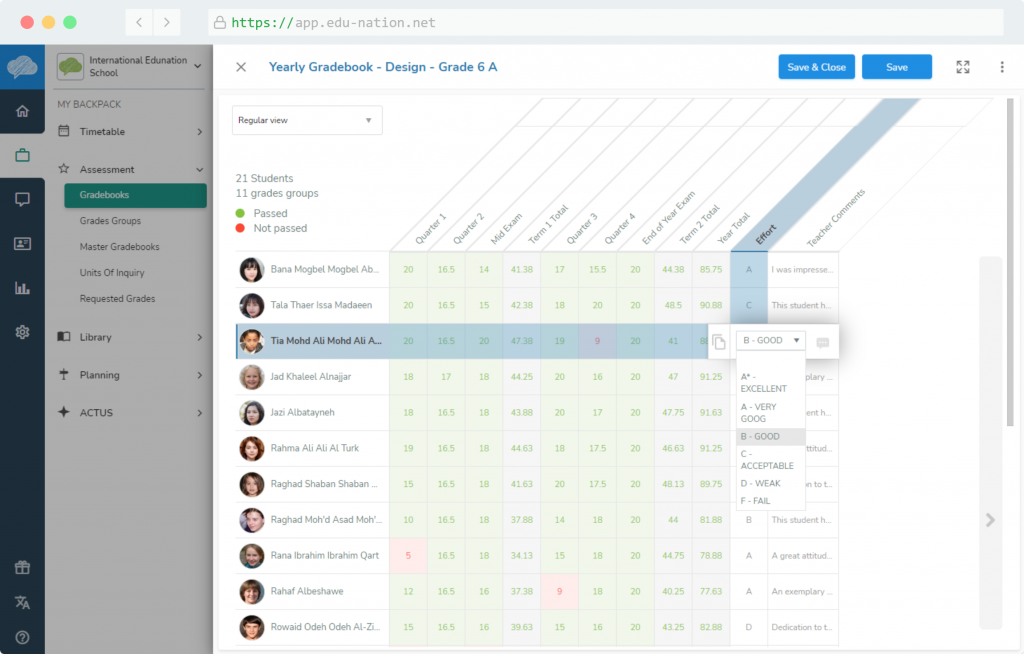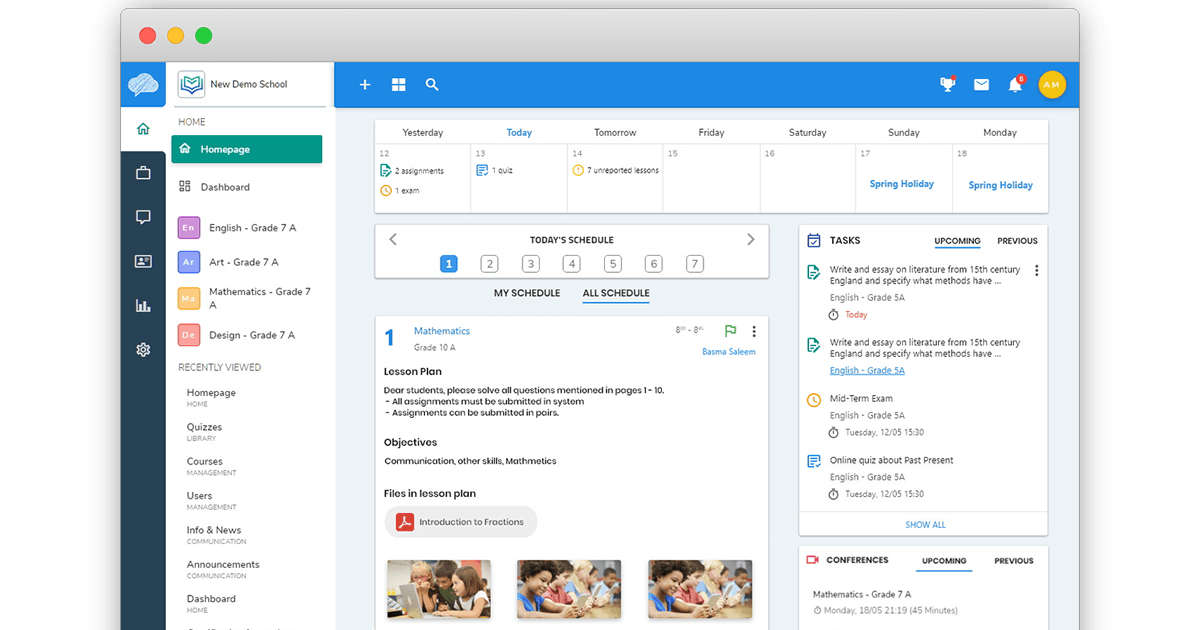 Curriculum support
Edunation has been designed to be a truly global learning platform that fits all your needs. To accomplish this ambitious feat, we built a strong modular foundation to support both national and international curricula, such as IB, AP, IGCSE and GCSE.
But that's not all. Edunation excels in the interconnectivity between different programs. With Edunation, you can now manage the learning process across curricula, and leverage the one platform to maintain the diversified academic programs that encompass all of your learners' needs.
Planning, Scheduling & Monitoring
When it comes to differentiated education, planning is everything. Edunation offers you a set of tools that will facilitate an entire platform of unit, lesson and grade planning. Your academic staff will be using the right tools to help them do what they do best: create differentiated educational value!
Want to gain true insights on how to create educational opportunities for your students? click here to arrange your risk free, no obligation trial!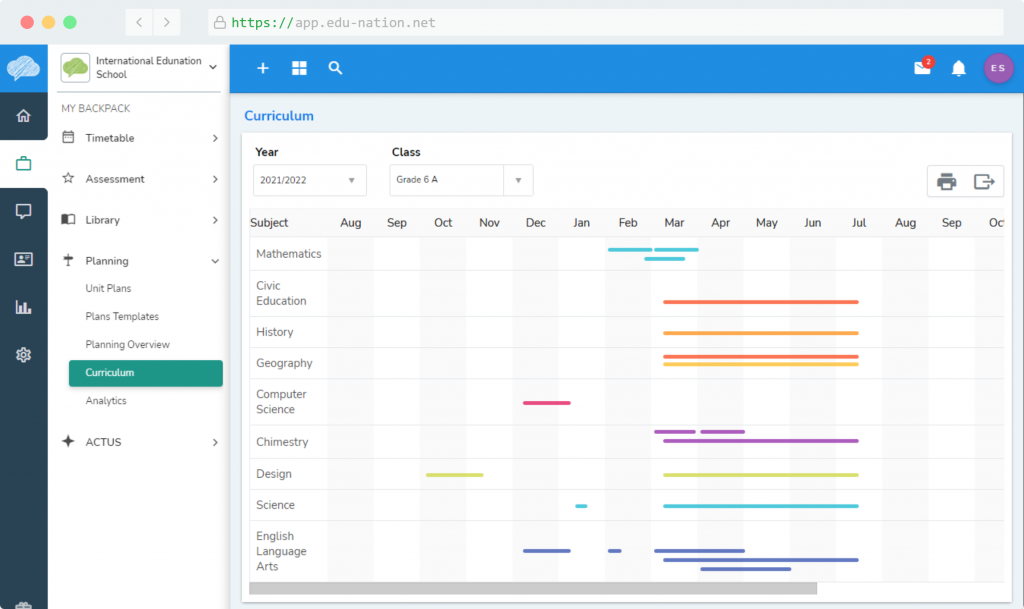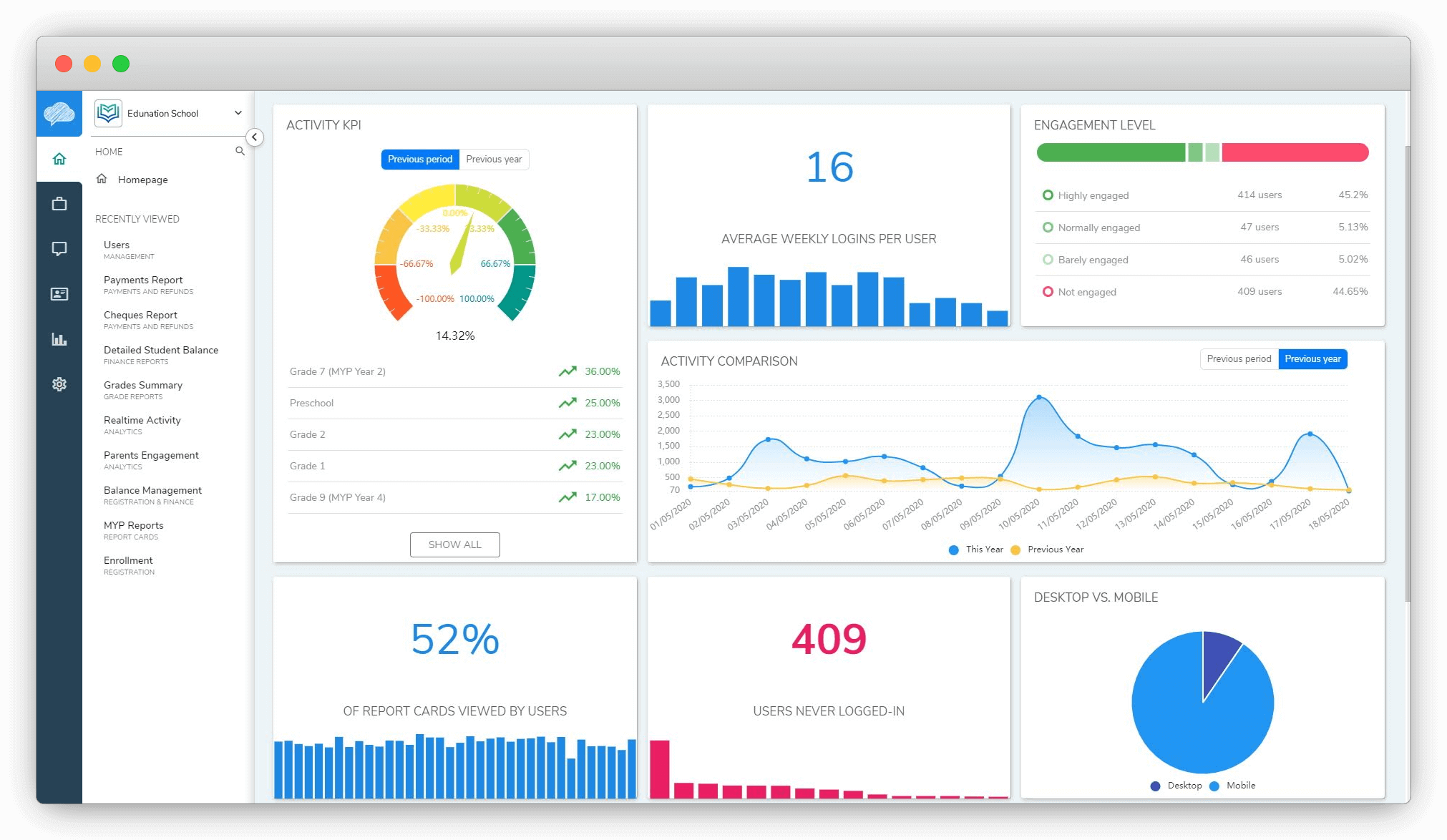 Learning Intelligence
A key element of success for any educational process is creating learning opportunities. With Edunation's innovative and easy-to-use learning intelligence module, you will be able to do just that.
How do your learners this year compare to their earlier counterparts? What is the difference in academic performance between learners who used videos for their educational material versus those who used slide decks? Edunation's insights can enable you to manage each student uniquely.
Communication & Notification
Going paperless cannot be achieved without a communication platform that truly gives you a 360-degree access to your stakeholders. Edunation gives your users access to instant messaging, as well as synchronous and asynchronous communication tools that facilitate continuous communication and enhanced awareness.
Want to streamline your stakeholder communication? Click here to arrange your risk free, no obligation trial.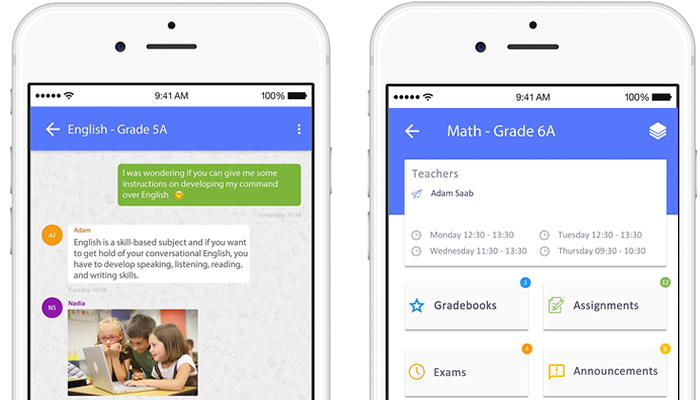 Mobile App. Android & iOS
Mobility is a necessary requirement for most users these days regardless of the technology used. We've got you covered! Edunation's mobile app is incredibly smart, user-friendly and intuitive, and well, mobile!

Taking class attendance online is easily done using the Edunation app. You can indicate whether a student is present, late, absent or absent with excuse.

Automated push notifications can be sent to students, parents and educators about upcoming events and other course details.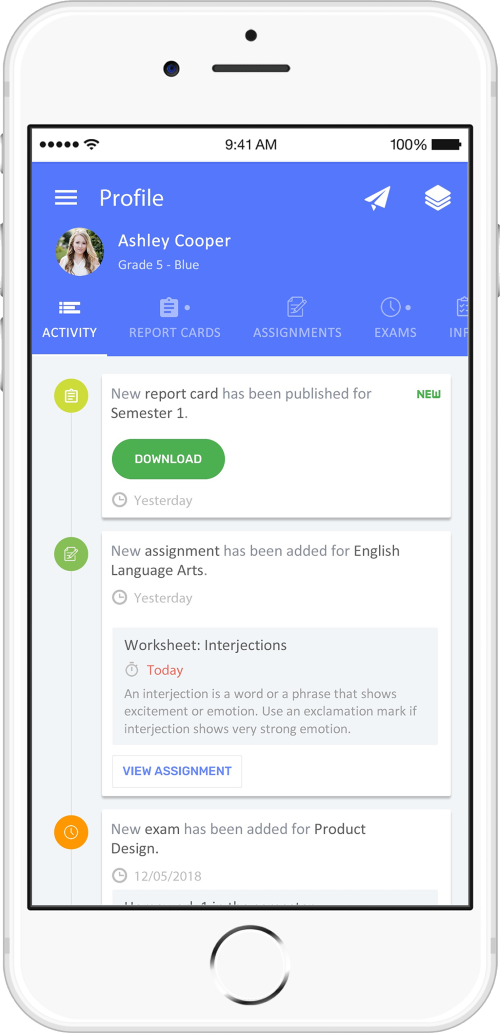 Increase communication between students and teachers with our messaging system. Send a message to single user, class or any group of users.

Edunation facilitates parents' involvement in their children's educational journey with a single, secure app.
Learning Resources & Unlimited Storage
You will never run out of space with Edunation! All of your learning material can be accessed anytime, anywhere and from any device. Your learner will never find themselves away from the resources they need.
Want to see how easy it is to setup learning material and access it from anywhere at anytime? Click here to arrange your risk free, no obligation trial.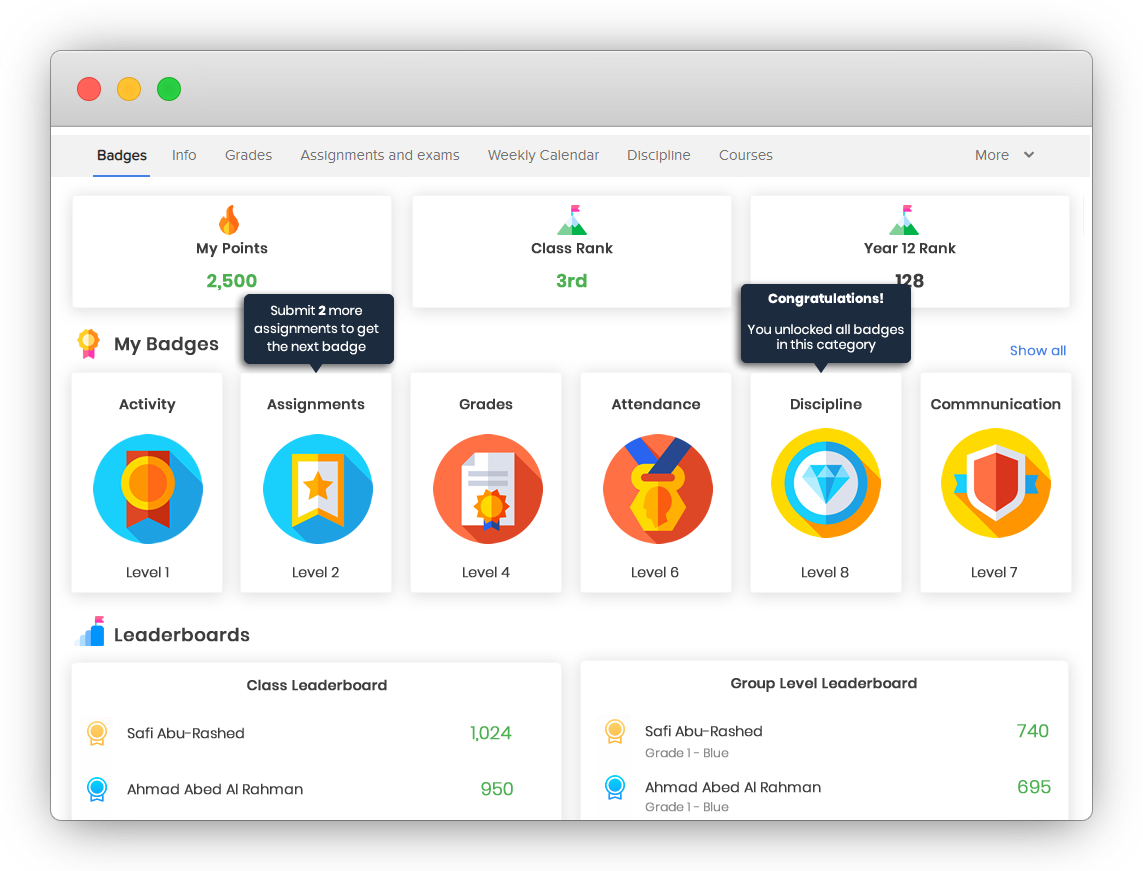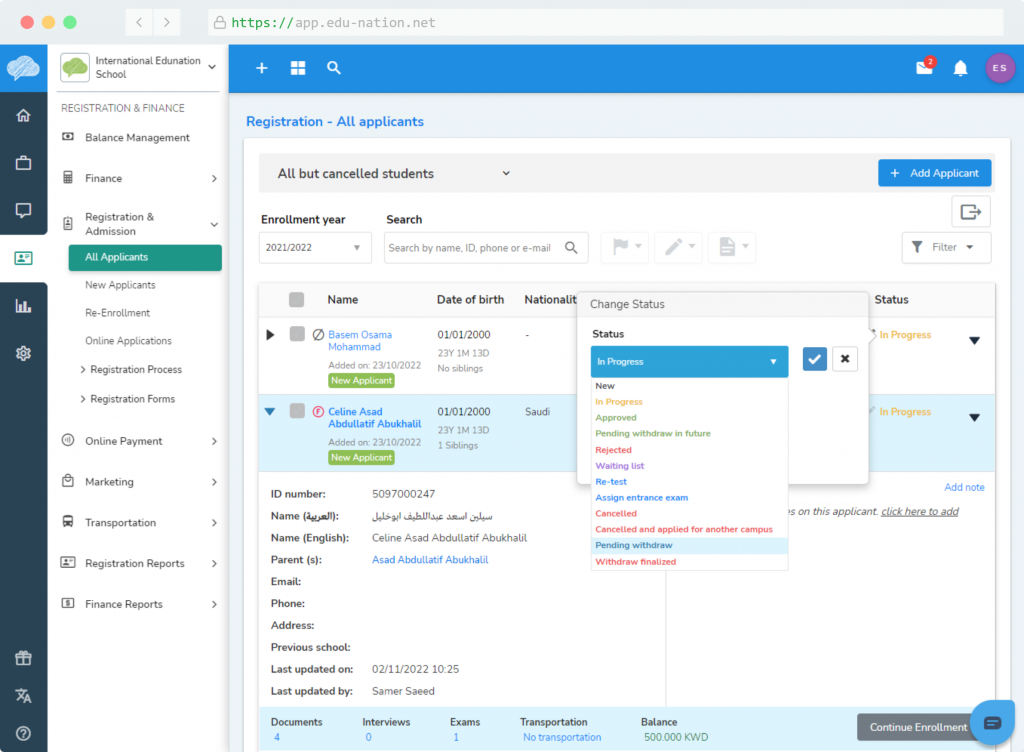 Registration & Admission
With Edunation, it is more than just registering users. It is about managing your ecosystems! From the moment a user is added to your environment, you will have access to up-to-date, timely and granular insights on him/her, enabling you to nurture every user appropriately.
Online registration (student application)
Entrace exams / interviews
Manage transportation
Re-enrollment
Manage fees
Issue invoices and receipts
Manage discounts
Multi-Campus & Multi-Language
Our multi campus feature facilitates a flexible outlook on your organization. It will help you create the required structure to truly address your unique needs. Whether you operate as one campus, multiple campuses or even a district- or nation-wide educational ecosystem, Edunation provides sufficient granularity via our single, integrated Platform for optimal decision-making for your entire spectrum.
Edunation offers 22 languages out-of-the-box. With dual language support, your organization will have a flexible structure supported by both your primary and secondary languages.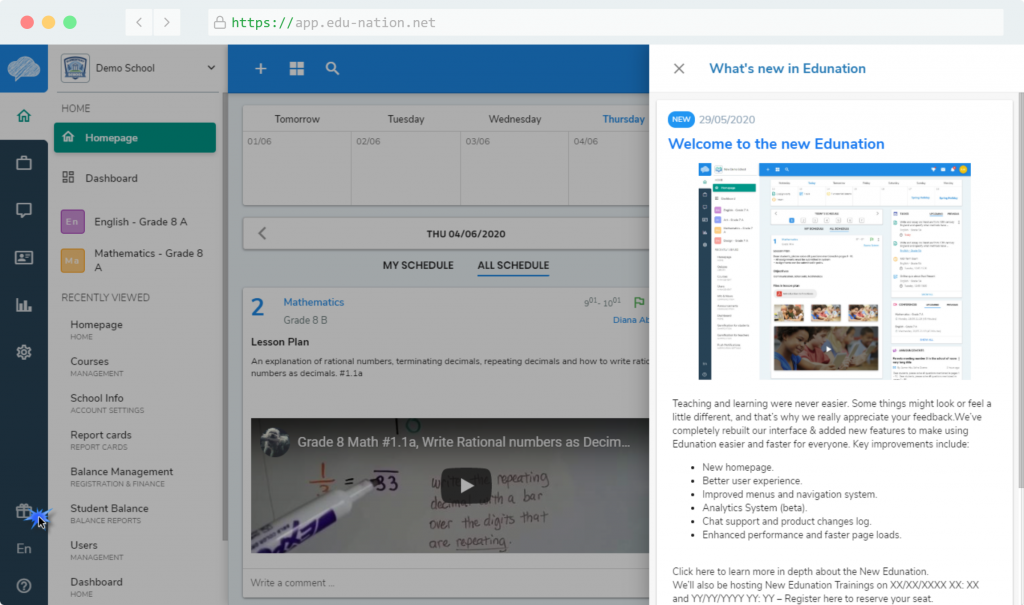 Get All The Right Things in Your Hands
Join today and discover the new generation learning environment.